It's been a busy few weeks here. Below are a few highlights.
The Cider Guide, run by Eric West, is a weekly round-up of cider news and notes. He has generously shared several of Pommel's recent posts.
I was honored to be asked to contribute a cider history timeline to the refreshed Pennsylvania Cider Guild website.
Brian Dressler, of Dressler Estate, and I were interviewed for the article,  MODERN CIDERING: Try your hand at making cider — or — enjoy some of the locally-made refreshment. It's funny that it's about modern cidering when all I really talked about was historic cidering.
I'm please to announce that the Pommel Cyder blog has cracked the top 40. The blog is ranked 22nd at the Top 40 Cider Blogs. Our thanks to Feedspot for including us and to Casey Kasem who reminded me every Saturday to keep my feet on the ground and keep reaching for the stars.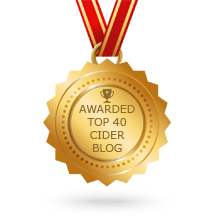 Lastly, I'm in the middle of setting some cider history roadshows. I'll post dates as they're set.